Xenacanthus decheni
Xenacanthus decheni. Illustration by Josef Moravec.
Oil painting 24" x 18".
* Available for sale to museums and serious art collectors.
* Contact us:
Dinosaur Corporation
XENACANTHUS decheni (fresh water shark) was characterized by a large spine protruding from the back of its head as well as little forked teeth. Since it did not possess true bone, mostly spines and teeth are discovered giving a rather limited view of this interesting animal.
TIME - 345 MYA, Carboniferous period. Some species survived into the mid - Permian period.
RANGE - USA - Texas, Oklahoma, Kansas, New Mexico. Fossils of this shark are also found in Russia and some sites in Eastern Europe.
The Carboniferous is a major division of the geologic timescale that extends from the end of the Devonian period, about 359.2 million years ago to the beginning of the Permian period, about 299.0 million years ago. The Carboniferous is named for the extensive coal beds of that age found in Western Europe. The first two thirds of the Carboniferous is called the Mississippian Subperiod, and the remainder is called the Pennsylvanian Subperiod. Conifer trees appeared in this important and well-known time period.
Contact us to obtain permission for commercial usage of this image:
Dinosaur Corporation
***
See more Josef Moravec's Dinosaurs & Prehistoric Ice Age Animals Oil Paintings
in
Dinosaur Exhibits
Copyright Dinosaur Corporation, USA. All rights reserved TM
When will it be shipped?
This product is in stock and will ship the same business day.
How long will it take to be delivered?
Click here to get estimated delivery date.
I have a question about this product. Can I talk to a real person?
Our experts are standing by to answer your questions 9 am to 5pm Pacific Time. You can email us or call us at 360-835-2228.

30-Day Return & Exchange Policy

We guarantee all our high quality products. If for any reason you are not 100% satisfied with your purchase, simply return the item for an exchange or refund within 30 days of purchase. Customer Support: 360-835-2228.

Return address: Dinosaur Corporation
631 N. Stephanie St.
Suite #431
Henderson, NV 89014


Add Related Items
Recently Viewed Items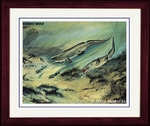 Xenacanthus decheni by Josef Moravec. Xenacathus picture. Photographic art print in 11" x 14" museum quality frame, double matted in glass.

Xenacanthus is a genus of prehistoric sharks. The first species of the genus lived in the later Devonian period, and they survived until the end of the Triassic, 202 million years ago.

Note: Watermarks and Copyright markings do not appear on the final photo quality prints.
$90.00