Chinese Water Deer Skull (Male)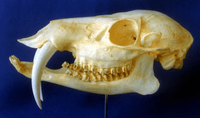 Chinese Water Deer Skull. Hydropotes inermis. Adult male. Cervidae. Single species isolated to South East China and captivity breeding. California Academy of Sciences specimen.
* Size: 7 inch (18cm)
* Museum quality replicas are cast in durable Polyurethane resins.
* Made in USA
The water deer (Hydropotes inermis) is a small deer superficially more similar to a musk deer than a true deer. Native to China and Korea, there are two subspecies: the Chinese water deer (Hydropotes inermis inermis) and the Korean water deer (Hydropotes inermis argyropus).
Shop more Museum Quality Skull Replicas in
DEER SKULLS STORE
When will it be shipped?
This product is in stock and will ship the same business day.
How long will it take to be delivered?
Click here to get estimated delivery date.
I have a question about this product. Can I talk to a real person?
Our experts are standing by to answer your questions 9 am to 5pm Pacific Time. You can email us or call us at 360-835-2228.

30-Day Return & Exchange Policy

We guarantee all our high quality products. If for any reason you are not 100% satisfied with your purchase, simply return the item for an exchange or refund within 30 days of purchase. Customer Support: 360-835-2228.

Return address: Dinosaur Corporation
631 N. Stephanie St.
Suite #431
Henderson, NV 89014


Add Related Items
Recently Viewed Items